Frequently Asked Questions
Welcome to our Good-bye Plastic FAQ page, dedicated to providing you with clear and comprehensive answers to all your queries.
Why choose Good-bye plastics?
Choosing Good-bye Plastics comes with several compelling reasons:
Sustainability Commitment: Good-bye Plastics is dedicated to producing the most sustainable and environmentally-friendly packaging in the market. This means that by choosing their products, you're actively contributing to a more eco-conscious approach to packaging.
Compostable Packaging: Good-bye Plastics specializes in compostable packaging. This means that their products are designed to break down naturally and return to the earth, reducing environmental impact.
Community Support: Good-bye Plastics believes in giving back and supporting the communities in which they operate. By choosing their products, you're indirectly contributing to these efforts.
Contribution to Circular Economy: Good-bye Plastics actively works towards accelerating the transition to a circular economy. This means they're invested in reducing waste and promoting the sustainable use of resources.
How can I become a distributor?
In order for us to better understand your requirements and offer you the most suitable pricing, please send an email to our sales team at info@good-byeplastic.com with the following details:
Business name
Full name
Contact phone number
Email address
Items you intend to purchase and your estimated monthly usage
How to change the delivery address of my package?
Please provide clear and accurate information on every shipping package and document including the type of goods you're shipping
Do I need to have an account to purchase from Good-bye Plastics?
Yes, you need to have an account to purchase from Good-bye Plastics. You can easily set up an account online and make your purchase using a credit card.
Do I have to be a business to purchase from Good-bye Plastics?
No, you don't need to be a business to purchase from us. However, the minimum order is one full carton of product. If you are not buying wholesale, please visit our Amazon storefront.
Does Good-bye Plastics offer wholesale pricing for large orders?
Yes, we do offer wholesale prices for orders of large volumes. Please send an email to and one of our sales staff will call to discuss the products and volumes you need.
How can I request samples?
To request samples please send an email to info@good-byeplastic.com including your business name, shipping address, contact phone number, and your requested sample list. Please be aware that shipping charges do apply
(Please note that we will require a street address as we do not deliver to P.O. box addresses).
Do you offer free samples?
Yes, we send free samples of our product, Shipping rates do apply.
Can you order samples online?
Yes, simply navigate to the product you would like to order a sample of and click on the 'order free sample' button.
What are your delivery costs?
We offer free shipping to most metro areas for an order of four cartons or more We offer subsidized freight rates to out-of metro areas for an order of four cartons or more. Orders of less than 4 cartons are charged shipping at $16.50.
Could you waive freight charges?
Unfortunately, we cannot waive freight charges.
Do you offer express shipping?
We know how important it is to maintain sufficient inventory and we always ensure you get your orders without delay. All orders are dispatched on the same day they are received. Please refer to our Delivery & Returns table for more information.
Does your advertised price include shipping?
No, our advertised price is exclusive of shipping. We offer free freight and subsidised freight to our customers. 
My order was delivered with incorrect products.
Our sales team does their best to be accurate when taking and placing the orders on our system however there will be some glitches in the process and in these cases, we will definitely take full responsibility. Just send an email to info@good-byeplastic.com and our Care team will do their best to help you with your concern and provide the necessary steps to sort things out immediately
When will my order arrive?
To see the full information on our delivery schedule, please check this page: Delivery & Returns
My order hasn't arrived yet!
Goodbye Plastics is very keen to deliver your orders at the exact time frame that we promised. However, if you find that your orders did not arrive at the expected time, email info@good-byeplastic.com and they will trace the deliveries for you
How do I process a return?
Please see our returns page to see how we process a return
What is the Minimum order quantity to custom print or custom design a product?
The minimum order quantity varies per product. Typically the minimum quantity is 1,000,000 products per year. 
Can I mix different designs to satisfy the MOQ?ed to have an account to purchase from Good-bye Plastics?
Yes, you can mix the designs for custom cups. You can mix up to 4 different designs to satisfy the minimum order quantity.
What is the lead time?
The lead time varies per product. Please send an email to info@good-byeplastic.com for the most up-to-date lead times.
I'm interested in custom-designed packaging. What should I send with my enquiry?
We specialize in food packaging but we do sometimes manufacture custom packaging for other industries and uses.
Please send an inquiry to info@good-byeplastic.com with:
Material required
Quantity required
Dimensions
Reference photo
Why is there a deposit required?
Sometimes we ask for a deposit as we are required to front the manufacturing costs for custom products.
Will you send a sample before going into production?
For custom printing, we do not send a physical sample before going into production.
For custom molded pulp, we can send a sample but there is a nominal cost involved.
What is composting?
Composting is the process of turning organic waste, such as food scraps and compostable packaging, into nutrient-rich compost that can be applied to land. Composting reproduces the natural process of organic material decay by providing the ideal conditions for microorganisms to break down the matter. The end-product of this process is nutrient-rich soil that can help crops, garden plants and trees to grow.
What are the different types of composting?
Home composting and industrial composting
There are two broad categories of composting, home composting and industrial composting. Home composting involves piling organic waste and aerating it over several weeks. An industrial compost facility optimizes the composting process by controlling oxygen content and temperature in a commercial facility to ensure rapid biodegradation of organic material to produce a high quality, toxic-free compost. Home composts also produce rich compost at the end of the process but may not maintain the right temperature and oxygen conditions for composting PLA products.
What is the benefit of composting?
Composting is a circular economy solution that allows businesses to reduce their environmental impact by diverting organic waste from landfills instead of having it turned into nutrient-rich compost. Composting is a local organics solution that is processed in your region without relying on exports and has a huge positive impact on the environment.
What is are the benefits of composting?
Helps fight climate change by sequestering carbon into the soil and avoiding methane emissions from landfill
Is a natural fertilizer that allows farmers to grow more food locally
Is an amazing soil conditioner that helps retain moisture and fight droughts
What's the difference between the term 'biodegradable' and 'compostable'?
The terms 'biodegradable' and 'compostable' are not equivalent or interchangeable. 'Biodegradable' simply means something will be broken down by microbes over time, which is true for most materials on the planet. Since this term applies to almost everything, it is a meaningless claim that has been abused through greenwashing.
In contrast, 'compostable' means something will break down in a defined amount of time and in set conditions (humidity levels, temperature, etc), such as the ones encountered in home compost bins or in composting facilities.
Like any other environmental claim though, it needs to be substantiated. That is why our compostable products are certified. These testing programs also ensure that the packaging does not hinder compost quality and that the compost produced can safely be applied to land.
How long does it take to break down Good-bye Plastic home compostable products?
Good-bye, Plastic's home compostable ranges conform to home compost standards. thid means they will decompose in standard home compost conditions within 180 days. However, the actual rate of biodegradation will depend on the temperature and humidity of the compost pile.
What Good-bye Plastic products are recyclable?
Food packaging must be clean from food and beverage residue to be eligible for recycling. If contaminated products end up in the recycling they can send a whole truckload to a landfill!
All of the products we sell are generally accepted in co-mingled recycling when clean.
What is the problem with recycling?
When food packaging is contaminated with food and beverage residue, it becomes extremely difficult to recycle through the regular recycling streams and usually ends up in a landfill.
Composting is an organics recycling solution that processes compostable food packaging and organic waste in one stream. It is processed locally with no overseas exporting and returns nutrients to the soil. Composting is the ideal waste solution for the food and beverage industry.
What happens to Good-bye Plastic products in landfills?
PLA bioplastic is considered inert in landfill, however our fiber-based products biodegrade in the absence of oxygen. This creates methane, a potent greenhouse gas. This is why it is so important to compost our products after use. Products like paper straws, wooden cutlery, napkins and unlined papers can be composted in backyard compost bins while products containing PLA need to be processed by an industrial composting facility.
Sustainability Solutions Magazine
Stay at the forefront of eco-friendly innovations and practices, empowering your role as an Eco-Friendly Sustainability Manager.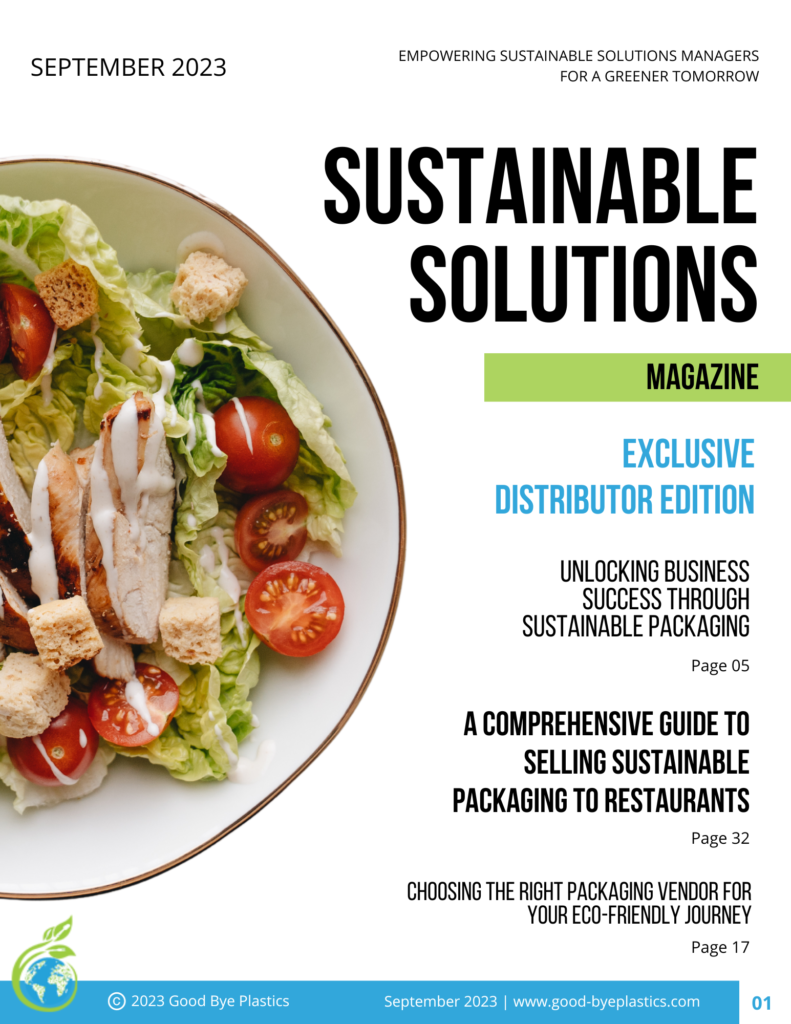 Join Our Eco-Friendly Sustainability Manager Community Today!
Collaborate, innovate, and drive sustainability forward together.
Sign up for the latest product news, sustainability trends and eco tips.